"I decided to open my own clinic because I believe in independently-owned, small businesses. Having my own clinic allows me to ensure every patient experience is customized and every condition or vision correction is maximized. I will work hard to meet your needs and help guide you as your eyes age.  Macalester-Groveland is home to me and I hope to make it a little bit cozier and a little bit stronger with Prism Eye Care. I look forward to meeting you!" – Dr. Lauren K. Haverly
Meet Our Eye Doctor
Dr. Lauren K. Haverly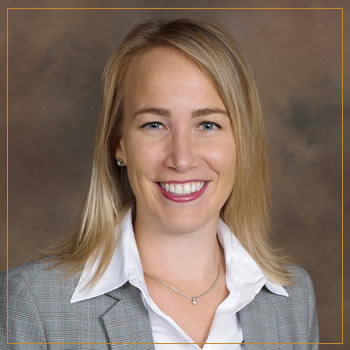 Born and raised in Minnesota, Dr. Haverly feels a strong sense of community and pride providing quality health care to the Twin Cities. She graduated from Lakeville North High school and chose to stay local for her undergraduate degree at the University of Minnesota. In 2014, she completed her doctor of optometry degree at The Ohio State University College of Optometry in Columbus. Dr. Haverly has been a part of the Macalester-Groveland neighborhood ever since she moved home to Minnesota. The walkability and small-town feel of St. Paul has won her heart!
While at Ohio State University, Dr. Lauren worked as a vision therapist on the weekends and discovered her passion for binocular vision and pediatrics. Dr. Lauren has worked in eye clinics that specialize in vision therapy as well as specialty contact lenses like orthokeratology. Dr. Lauren has experience with refractive and cataract surgery pre and post-operative exams, chronic ocular disease such as dry eye syndrome and glaucoma or acute ocular disease like conjunctivitis and corneal abrasions. In particular, Dr. Lauren is passionate about myopia prevention methods and amblyopia.
Dr. Lauren is a member of the American Optometric Association (AOA) and the Minnesota Optometric Association (MOA). She currently serves on the Board of Directors for the MOA as well as The Ohio State University College of Optometry Alumni Society Board. In 2016 Dr. Lauren was named Young Optometrist of the Year by the Minnesota Optometric Association. In 2020, she was appointed to the Accreditation Council on Optometric Education (ACOE) and served for a year. Dr. Lauren was awarded the Ohio State University College of Optometry's Early Professional Achievement Award in 2022.
Despite being married to an Ohio State Buckeye fan, Dr. Lauren maintains her Minnesota Gopher fandom. In her spare time, Dr. Lauren enjoys taking her dog, Luci, to the park, going on bike rides and yoga.
Contact Us
If you have any questions about our services, contact lenses, eye glasses or about something else please fill out the form below and we will get back to you as soon as possible.